Layout
Click here to view our Course Photo Gallery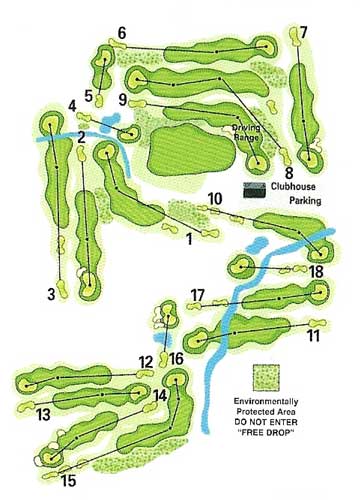 USGA Rules Govern
All Play Player must keep pace with group ahead or allow faster groups to play through. 
Player must maintain a pace of play at a maximum of 2 hours per 9-holes of play.
Keep all carts 30 feet from Greens

Soft spikes required

Shirts must be worn at all times

150 marker may be removed & replaced

Out of Bounce determined by White Stakes. Please observe out of bounds stakes inside course on Hole #8

All golfers must have their own bag & clubs (Rentals available in clubhouse)

Replace divots, repair ball marks on greens, smooth & rake all bunkers

Carts are to be operated by licensed drivers only, & in a manner conductive to the conditions of play. A maximum of 2 riders & 2 bags of clubs per cart
Outside alcoholic beverages are not permitted.
Special notes: Yardages marked to the center of green.